Trainer Battle Deck - Misty of Cerulean City Gym (JP Pokemon Center Exclusive)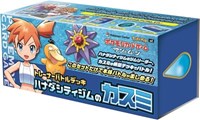 Set
Miscellaneous Cards & Products
Please Note: The product you receive will be in Japanese. Japanese cards from this product are Not Tournament Legal in English Pokemon TCG Tournaments.

Each Japanese-only Trainer Battle Deck includes a deck box, a playmat, and a set of card sleeves with artwork mirroring the box design, plus 44 damage counters, 2 status markers, 1 GX marker, and a coin.

Any singles pulled from this item must be listed as Listings with Photos on their English counterparts, where possible.
| | Name | Set | Price | Trend | | |
| --- | --- | --- | --- | --- | --- | --- |
| | Pikachu and Eevee Poke Ball Collection | Miscellaneous Cards & Products | $64.99 | 28% | | |
| | Pokemon Poke Ball Tin Poke Ball | Miscellaneous Cards & Products | $21.87 | 10% | | |
| | Pokemon Poke Ball Tin Quick Ball | Miscellaneous Cards & Products | $15.96 | -64% | | |
| | Pokemon TCG Basic Energy Box | Miscellaneous Cards & Products | $19.41 | -6% | | |
| | Lets Play Theme Deck Pikachu | Miscellaneous Cards & Products | $30.99 | 24% | | |
| | Lets Play Theme Deck Eevee | Miscellaneous Cards & Products | $0.00 | -100% | | |
| | Kanto Friends Mini Tin Bulbasaur | Miscellaneous Cards & Products | $15.76 | -61% | | |
| | Kanto Friends Mini Tin Pikachu | Miscellaneous Cards & Products | $17.49 | -40% | | |
| | Kanto Friends Mini Tin Eevee | Miscellaneous Cards & Products | $14.62 | -42% | | |
| | Kanto Friends Mini Tin Charmander | Miscellaneous Cards & Products | $17.05 | -51% | | |
| | Kanto Friends Mini Tin Squirtle | Miscellaneous Cards & Products | $16.59 | -34% | | |
| | Knock Out Collection Druddigon Noivern Hydreigon | Miscellaneous Cards & Products | | 0% | | |
| | Knock Out Collection Chesnaught Delphox Greninja | Miscellaneous Cards & Products | | 0% | | |
| | Knock Out Collection Tyranitar Shiftry and Vivillon | Miscellaneous Cards & Products | $38.48 | 73% | | |
| | Knock Out Collection Lucario Bisharp and Zoroark | Miscellaneous Cards & Products | $22.05 | 9% | | |
| | General Mills Promo Booster Pack Kanto | Miscellaneous Cards & Products | $10.96 | -32% | | |
| | General Mills Promo Booster Pack Sun and Moon | Miscellaneous Cards & Products | $13.50 | -61% | | |
| | Kanto Power Mini Tin Charizard | Miscellaneous Cards & Products | $33.22 | 53% | | |
| | Kanto Power Mini Tin Dragonite | Miscellaneous Cards & Products | $29.16 | 56% | | |
| | Kanto Power Mini Tin Mew | Miscellaneous Cards & Products | $24.95 | 9% | | |
| | Kanto Power Mini Tin Mewtwo | Miscellaneous Cards & Products | $25.17 | 27% | | |
| | Kanto Power Mini Tin Vulpix | Miscellaneous Cards & Products | $25.21 | 27% | | |
| | Pokemon Poke Ball Tin Great Ball | Miscellaneous Cards & Products | $14.82 | -27% | | |
| | Pokemon Poke Ball Tin Luxury Ball | Miscellaneous Cards & Products | $19.50 | -70% | | |
| | Pokemon Poke Ball Tin Premier Ball | Miscellaneous Cards & Products | $20.22 | -2% | | |
| | Battle Arena Deck Rayquaza GX | Miscellaneous Cards & Products | $89.97 | 80% | | |
| | Battle Arena Deck Ultra Necrozma GX | Miscellaneous Cards & Products | $60.00 | 13% | | |
| | Galar Collection Grookey with Zamazenta V | Miscellaneous Cards & Products | $0.00 | -100% | | |
| | Galar Collection Grookey with Zacian V | Miscellaneous Cards & Products | $0.00 | 0% | | |
| | Galar Collection Scorbunny with Zacian V | Miscellaneous Cards & Products | $0.00 | -100% | | |
| | Galar Collection Scorbunny with Zamazenta V | Miscellaneous Cards & Products | $0.00 | 0% | | |
| | Galar Collection Sobble with Zamazenta V | Miscellaneous Cards & Products | $0.00 | 0% | | |
| | Galar Collection Sobble with Zacian V | Miscellaneous Cards & Products | $0.00 | -100% | | |
| | Elemental Power Tin Flareon GX | Miscellaneous Cards & Products | $37.84 | -7% | | |
| | Elemental Power Tin Vaporeon GX | Miscellaneous Cards & Products | $31.33 | -5% | | |
| | Elemental Power Tin Jolteon GX | Miscellaneous Cards & Products | $33.40 | 7% | | |
| | Fall 2019 Collectors Chest Tin | Miscellaneous Cards & Products | $200.87 | -2% | | |
| | TAG TEAM Generations Premium Collection | Miscellaneous Cards & Products | $232.89 | 44% | | |
| | Battle Arena Deck Ultra Necrozma GX and Rayquaza GX | Miscellaneous Cards & Products | $55.00 | -28% | | |
| | Premium Checklane Blister Gardevoir | Miscellaneous Cards & Products | | 0% | | |
| | Premium Checklane Blister Gallade | Miscellaneous Cards & Products | | 0% | | |
| | Lets Play Pokemon TCG Box | Miscellaneous Cards & Products | $43.43 | 120% | | |
| | Alolan Sandslash GX Box | Miscellaneous Cards & Products | $0.00 | -100% | | |
| | Meowth VMAX Special Collection | Miscellaneous Cards & Products | $78.04 | 50% | | |
| | Black Kyurem Box | Miscellaneous Cards & Products | $0.00 | 0% | | |
| | White Kyurem Box | Miscellaneous Cards & Products | | 0% | | |
| | Keldeo Box | Miscellaneous Cards & Products | $0.00 | 0% | | |
| | Clash of Legends Box Darkrai and Cresselia Legend | Miscellaneous Cards & Products | | 0% | | |
| | Clash of Legends Box Dialga and Palkia Legend | Miscellaneous Cards & Products | | 0% | | |
| | World of Illusions Box | Miscellaneous Cards & Products | | 0% | | |
| | Legendary Dragons of Unova Collection | Miscellaneous Cards & Products | | 0% | | |
| | Double Album Box | Miscellaneous Cards & Products | | 0% | | |
| | EX Series Collectors Tin | Miscellaneous Cards & Products | $0.00 | -100% | | |
| | BW Sneak Peek Tin Tepig | Miscellaneous Cards & Products | | 0% | | |
| | BW Sneak Peek Tin Snivy | Miscellaneous Cards & Products | | 0% | | |
| | BW Sneak Peek Tin Oshawott | Miscellaneous Cards & Products | | 0% | | |
| | Galar Pal Mini Tin Galarian Ponyta | Miscellaneous Cards & Products | $13.97 | -28% | | |
| | Galar Pal Mini Tin Grookey and Wooloo | Miscellaneous Cards & Products | $12.82 | -39% | | |
| | Galar Pal Mini Tin Scorbunny and Pikachu | Miscellaneous Cards & Products | $12.42 | -29% | | |
| | Galar Pal Mini Tin Sobble and Rookidee | Miscellaneous Cards & Products | $15.21 | -14% | | |
| | Galar Pal Mini Tin Yamper and Morpeko | Miscellaneous Cards & Products | $12.85 | -32% | | |
| | Galar Pal Mini Tin Display | Miscellaneous Cards & Products | $289.99 | 0% | | |
| | Galar Pal Mini Tin Set of 5 | Miscellaneous Cards & Products | $55.59 | -19% | | |
| | Pokemon TCG SWSH Basic Energy Box | Miscellaneous Cards & Products | $9.48 | -47% | | |
| | TAG TEAM Powers Collection Espeon and Deoxys GX | Miscellaneous Cards & Products | $299.50 | 115% | | |
| | TAG TEAM Powers Collection Umbreon and Darkrai GX | Miscellaneous Cards & Products | $279.46 | 55% | | |
| | Pokemon Poke Ball Tin Ultra Ball | Miscellaneous Cards & Products | $14.76 | -32% | | |
| | Pokemon Poke Ball Tin Dive Ball | Miscellaneous Cards & Products | $113.33 | 247% | | |
| | Pokemon TCG Starter Gift Set | Miscellaneous Cards & Products | $0.00 | 0% | | |
| | Pokemon TCG EX Collectors Box Deoxys | Miscellaneous Cards & Products | | 0% | | |
| | Pokemon TCG EX Collectors Box Rayquaza | Miscellaneous Cards & Products | | 0% | | |
| | Pokemon TCG Thunderstorm Gift Box | Miscellaneous Cards & Products | | 0% | | |
| | Pokemon Poke Ball Tin Dusk Ball | Miscellaneous Cards & Products | $46.75 | 101% | | |
| | League Battle Decks Pikachu and Zekrom GX | Miscellaneous Cards & Products | $37.04 | -9% | | |
| | League Battle Decks Reshiram and Charizard GX | Miscellaneous Cards & Products | $48.66 | -8% | | |
| | League Battle Decks Set of 2 | Miscellaneous Cards & Products | $89.81 | 20% | | |
| | Pokemon TCG Trainers Toolkit 2020 | Miscellaneous Cards & Products | $35.12 | -17% | | |
| | Dragonite Dragons Tin | Miscellaneous Cards & Products | $63.13 | 117% | | |
| | Salamence Dragons Tin | Miscellaneous Cards & Products | $43.21 | 70% | | |
| | Galar Power Mini Tin Display | Miscellaneous Cards & Products | $137.48 | 0% | | |
| | Galar Power Mini Tin Dragapult | Miscellaneous Cards & Products | $10.95 | -29% | | |
| | Galar Power Mini Tin Galarian Sirfetchd | Miscellaneous Cards & Products | $9.95 | -31% | | |
| | Galar Power Mini Tin Galarian Rapidash | Miscellaneous Cards & Products | $12.57 | -19% | | |
| | Galar Power Mini Tin Galarian Obstagoon | Miscellaneous Cards & Products | $10.38 | -28% | | |
| | Galar Power Mini Tin Toxtricity | Miscellaneous Cards & Products | $12.84 | -21% | | |
| | Galar Challengers Tin Polteageist V | Miscellaneous Cards & Products | $0.00 | -100% | | |
| | Galar Challengers Tin Copperajah V | Miscellaneous Cards & Products | $0.00 | -100% | | |
| | Galar Challengers Tin Toxtricity V | Miscellaneous Cards & Products | $0.00 | 0% | | |
| | Galar Challengers Tin Set of 3 | Miscellaneous Cards & Products | $100.00 | 0% | | |
| | V Powers Tin Pikachu V | Miscellaneous Cards & Products | $26.89 | -22% | | |
| | V Powers Tin Eevee V | Miscellaneous Cards & Products | $35.50 | 17% | | |
| | V Powers Tin Eternatus V | Miscellaneous Cards & Products | $24.71 | -28% | | |
| | V Powers Tin Set of 3 | Miscellaneous Cards & Products | $0.00 | -100% | | |
| | Kanto Power Mini Tin Display | Miscellaneous Cards & Products | $269.97 | 73% | | |
| | Kanto Friends Mini Tin Display | Miscellaneous Cards & Products | $0.00 | 0% | | |
| | Small But Mighty Premium Collection | Miscellaneous Cards & Products | $233.50 | 67% | | |
| | Jirachi GX Collection | Miscellaneous Cards & Products | $114.66 | 15% | | |
| | Sword and Shield Ultra Premium Collection Zacian and Zamazenta | Miscellaneous Cards & Products | $161.14 | -11% | | |
| | League Battle Deck Zacian V | Miscellaneous Cards & Products | $29.28 | -27% | | |
| | Legends of Johto Pin Collection | Miscellaneous Cards & Products | $86.81 | 16% | | |
| | Strong Bonds Tin Gardevoir | Miscellaneous Cards & Products | $29.98 | 39% | | |
| | Strong Bonds Tin Blissey | Miscellaneous Cards & Products | $33.00 | 69% | | |
| | Collectors Pin Two Pack Blisters Espeon | Miscellaneous Cards & Products | | 0% | | |
| | Collectors Pin Two Pack Blisters Umbreon | Miscellaneous Cards & Products | | 0% | | |
| | V Battle Deck Display Venusaur V Blastoise V | Miscellaneous Cards & Products | $0.00 | -100% | | |
| | V Battle Deck Bundle Venusaur V Blastoise V | Miscellaneous Cards & Products | $49.03 | 72% | | |
| | V Battle Deck Blastoise V | Miscellaneous Cards & Products | $18.98 | 64% | | |
| | V Battle Deck Venusaur V | Miscellaneous Cards & Products | $16.80 | 50% | | |
| | V Forces Tin Display | Miscellaneous Cards & Products | $0.00 | 0% | | |
| | V Forces Tin Galarian Slowbro V | Miscellaneous Cards & Products | $21.58 | -21% | | |
| | V Forces Tin Lucario V | Miscellaneous Cards & Products | $20.16 | -42% | | |
| | V Forces Tin Mew V | Miscellaneous Cards & Products | $21.34 | -36% | | |
| | V Forces Tin Set of 3 | Miscellaneous Cards & Products | $0.00 | 0% | | |
| | Tapu Koko Box International Version | Miscellaneous Cards & Products | $38.92 | 119% | | |
| | Meowth VMAX Box International Version | Miscellaneous Cards & Products | $46.87 | 3% | | |
| | Pokemon Poke Ball Tin Level Ball | Miscellaneous Cards & Products | $18.71 | -22% | | |
| | Venusaur VMAX Battle Box | Miscellaneous Cards & Products | $44.96 | 72% | | |
| | Blastoise VMAX Battle Box | Miscellaneous Cards & Products | $65.91 | 81% | | |
| | Pokemon Poke Ball Tin Display | Miscellaneous Cards & Products | $112.87 | 3% | | |
| | General Mills 25th Anniversary Booster Pack | Miscellaneous Cards & Products | $4.64 | -24% | | |
| | V Battle Deck Bundle Victini V Gardevoir V | Miscellaneous Cards & Products | $29.54 | 61% | | |
| | V Battle Deck Display Victini V Gardevoir V | Miscellaneous Cards & Products | $90.00 | 62% | | |
| | V Battle Deck Victini V | Miscellaneous Cards & Products | $12.13 | 20% | | |
| | V Battle Deck Gardevoir V | Miscellaneous Cards & Products | $12.65 | 26% | | |
| | Collectors Pin Two Pack Blisters Charizard | Miscellaneous Cards & Products | $20.00 | 0% | | |
| | Collectors Pin Two Pack Blisters Mimikyu | Miscellaneous Cards & Products | | 0% | | |
| | Collectors Pin Two Pack Blisters Dusk Mane Necrozma | Miscellaneous Cards & Products | $0.00 | 0% | | |
| | Collectors Pin Two Pack Blisters Dawn Wings Necrozma | Miscellaneous Cards & Products | $0.00 | 0% | | |
| | League Battle Deck Inteleon VMAX | Miscellaneous Cards & Products | $21.20 | 3% | | |
| | Marshadow Box International Version | Miscellaneous Cards & Products | $0.00 | 0% | | |
| | Checklane 2 Mini Pack Blister Dragonite | Miscellaneous Cards & Products | $12.50 | 45% | | |
| | Checklane 2 Mini Pack Blister Machamp | Miscellaneous Cards & Products | $0.00 | -100% | | |
| | Gardevoir V Victini V Battle Decks Set of 2 | Miscellaneous Cards & Products | $22.02 | 30% | | |
| | Blastoise V Venusaur V Battle Decks Set of 2 | Miscellaneous Cards & Products | $36.93 | 79% | | |
| | Marnie Premium Tournament Collection Box | Miscellaneous Cards & Products | $79.23 | -4% | | |
| | Pokemon TCG Trainers Toolkit 2021 | Miscellaneous Cards & Products | $21.19 | -2% | | |
| | Pokemon Poke Ball Tin plus 2 Kanto Power Mini Tins Poke Ball | Miscellaneous Cards & Products | $0.00 | -100% | | |
| | Pokemon Poke Ball Tin plus 2 Kanto Power Mini Tins Great Ball | Miscellaneous Cards & Products | $0.00 | 0% | | |
| | Pokemon Poke Ball Tin plus 2 Kanto Power Mini Tins Dusk Ball | Miscellaneous Cards & Products | $0.00 | 0% | | |
| | Pokemon Poke Ball Tin plus 2 Kanto Power Mini Tins Premier Ball | Miscellaneous Cards & Products | $0.00 | 0% | | |
| | Pokemon Poke Ball Tin plus 2 Kanto Power Mini Tins Ultra Ball | Miscellaneous Cards & Products | $0.00 | 0% | | |
| | Kanto Power Mini Tins 5 Pack | Miscellaneous Cards & Products | $142.66 | 44% | | |
| | V Battle Deck Bundle Rayquaza V Noivern V | Miscellaneous Cards & Products | $23.03 | -8% | | |
| | Rayquaza V Noivern V Battle Decks Set of 2 | Miscellaneous Cards & Products | $0.00 | -100% | | |
| | V Battle Deck Rayquaza V | Miscellaneous Cards & Products | $16.04 | -18% | | |
| | V Battle Deck Noivern V | Miscellaneous Cards & Products | $13.19 | -33% | | |
| | Mighty Mysterious Tin Mimikyu | Miscellaneous Cards & Products | $15.97 | -9% | | |
| | Mighty Mysterious Tin Darkrai | Miscellaneous Cards & Products | $14.16 | 0% | | |
| | Mighty Mysterious Tin Snorlax | Miscellaneous Cards & Products | $16.13 | 0% | | |
| | League Battle Deck Single Strike Urshifu VMAX | Miscellaneous Cards & Products | $20.78 | -65% | | |
| | League Battle Deck Rapid Strike Urshifu VMAX | Miscellaneous Cards & Products | $25.19 | -58% | | |
| | League Battle Deck Rapid Single Strike Urshifu VMAX Set of 2 | Miscellaneous Cards & Products | $43.84 | -66% | | |
| | Mythical Squishy Premium Collection | Miscellaneous Cards & Products | $68.60 | -16% | | |
| | Reshiram and Charizard GX Premium Collection | Miscellaneous Cards & Products | $83.43 | -22% | | |
| | 2 Pack Blister Snorlax Morpeko and Applin Cards | Miscellaneous Cards & Products | $10.00 | 0% | | |
| | Vaporeon VMAX Premium Collection | Miscellaneous Cards & Products | $89.91 | 32% | | |
| | Jolteon VMAX Premium Collection | Miscellaneous Cards & Products | $81.87 | 12% | | |
| | Flareon VMAX Premium Collection | Miscellaneous Cards & Products | $76.51 | 7% | | |
| | Eevee Evolution VMAX Premium Collection Set of 3 | Miscellaneous Cards & Products | $251.37 | -7% | | |
| | Eevee Pokemon Treasure Chest Tin | Miscellaneous Cards & Products | $43.30 | 0% | | |
| | Pikachu and Zekrom GX Premium Collection | Miscellaneous Cards & Products | $57.34 | -5% | | |
| | Kanto Friends Mini Tins 5 Pack | Miscellaneous Cards & Products | $115.31 | 67% | | |
| | Costco Pokemon Collector 3 Pack Eevee Treasure Chest plus 2 Poke Ball Tins | Miscellaneous Cards & Products | $69.98 | -7% | | |
| | V Powers Tin Pikachu V International Version | Miscellaneous Cards & Products | $25.99 | 0% | | |
| | V Powers Tin Eevee V International Version | Miscellaneous Cards & Products | $23.45 | 0% | | |
| | V Powers Tin Eternatus V International Version | Miscellaneous Cards & Products | $22.46 | 0% | | |
| | V Powers Tin Set of 3 International Version | Miscellaneous Cards & Products | $0.00 | 0% | | |
| | Poke Ball Tin Display Q4 2018 | Miscellaneous Cards & Products | | 0% | | |
| | Poke Ball Tin Display Q1 2019 | Miscellaneous Cards & Products | $199.99 | 0% | | |
| | Poke Ball Tin Display Q3 2019 | Miscellaneous Cards & Products | | 0% | | |
| | Poke Ball Tin Display Q1 2020 | Miscellaneous Cards & Products | | 0% | | |
| | Poke Ball Tin Display Q2 2020 | Miscellaneous Cards & Products | | 0% | | |
| | Poke Ball Tin Display Q1 2021 | Miscellaneous Cards & Products | $104.74 | 0% | | |
| | Poke Ball Tin Display Q4 2021 | Miscellaneous Cards & Products | $97.13 | 7% | | |
| | Pikachu V Box | Miscellaneous Cards & Products | $17.05 | 0% | | |
| | Pokemon Stacking Tin Water | Miscellaneous Cards & Products | $14.63 | 0% | | |
| | Pokemon Stacking Tin Grass | Miscellaneous Cards & Products | $15.65 | 0% | | |
| | Pokemon Stacking Tin Electric | Miscellaneous Cards & Products | $13.04 | 0% | | |
| | Pokemon Stacking Tins Set of 6 | Miscellaneous Cards & Products | $65.37 | 0% | | |
| | Pokemon Stacking Tins Set of 3 | Miscellaneous Cards & Products | $38.86 | 0% | | |
| | Spring 2022 Collector Bundle | Miscellaneous Cards & Products | $24.93 | 0% | | |
| | Lucario VSTAR Premium Collection | Miscellaneous Cards & Products | $29.60 | -20% | | |
| | Sinnoh Star Mini Tin Piplup | Miscellaneous Cards & Products | $10.33 | -26% | | |
| | Sinnoh Star Mini Tin Riolu | Miscellaneous Cards & Products | $11.23 | -19% | | |
| | Sinnoh Star Mini Tin Turtwig | Miscellaneous Cards & Products | $9.95 | 0% | | |
| | Sinnoh Star Mini Tin Chimchar | Miscellaneous Cards & Products | $9.56 | -31% | | |
| | Sinnoh Star Mini Tin Munchlax | Miscellaneous Cards & Products | $9.95 | -29% | | |
| | Morpeko V UNION Special Collection | Miscellaneous Cards & Products | $15.34 | -56% | | |
| | Boltund V Box | Miscellaneous Cards & Products | $17.19 | -36% | | |
| | V Heroes Tin Espeon V | Miscellaneous Cards & Products | $23.18 | -33% | | |
| | V Heroes Tin Sylveon V | Miscellaneous Cards & Products | $26.64 | -23% | | |
| | V Heroes Tin Umbreon V | Miscellaneous Cards & Products | $29.41 | -15% | | |
| | V Heroes Tin Set of 3 | Miscellaneous Cards & Products | $76.19 | -13% | | |
| | Fall 2020 Collectors Chest Tin plus Premier Ball 2 Pack Retail Exclusive | Miscellaneous Cards & Products | $49.99 | 11% | | |
| | Fall 2020 Collectors Chest Tin plus Poke Ball 2 Pack Retail Exclusive | Miscellaneous Cards & Products | $60.53 | 1% | | |
| | Fall 2020 Collectors Chest Tin plus Great Ball 2 Pack Retail Exclusive | Miscellaneous Cards & Products | $0.00 | 0% | | |
| | Fall 2020 Collectors Chest Tin plus Level Ball 2 Pack Retail Exclusive | Miscellaneous Cards & Products | $54.48 | 0% | | |
| | Fall 2020 Collectors Chest Tin plus Ultra Ball 2 Pack Retail Exclusive | Miscellaneous Cards & Products | $59.98 | 0% | | |
| | Sinnoh Star Mini Tin Set of 5 | Miscellaneous Cards & Products | $52.94 | -18% | | |
| | Sinnoh Star Mini Tin Display | Miscellaneous Cards & Products | $85.61 | -29% | | |
| | V Battle Deck Bundle Lycanroc V Corviknight V | Miscellaneous Cards & Products | $13.49 | -11% | | |
| | Alolan Raichu Box | Miscellaneous Cards & Products | $47.35 | 27% | | |
| | Knock Out Collection Toxtricity Duraladon Sandaconda | Miscellaneous Cards & Products | $15.32 | -38% | | |
| | Knock Out Collection Boltund Eiscue Galarian Sirfetchd | Miscellaneous Cards & Products | $15.00 | 0% | | |
| | V Battle Deck Lycanroc V | Miscellaneous Cards & Products | $7.34 | -15% | | |
| | V Battle Deck Corviknight V | Miscellaneous Cards & Products | $8.01 | -24% | | |
| | Lycanroc V Corviknight V Battle Decks Set of 2 | Miscellaneous Cards & Products | $15.96 | 15% | | |
| | Start Deck 100 JP Exclusive 2021 | Miscellaneous Cards & Products | $19.99 | 0% | | |
| | Start Deck 100 Display JP Exclusive 2021 | Miscellaneous Cards & Products | | 0% | | |
| | Poke Ball Tin Display Q2 2022 | Miscellaneous Cards & Products | $77.41 | -22% | | |
| | Spring 2022 Collector Chest | Miscellaneous Cards & Products | $20.38 | -24% | | |
| | Pikachu V Showcase | Miscellaneous Cards & Products | $0.00 | 0% | | |
| | Legendary Beasts Collector Pin 3 Pack Blister Raikou | Miscellaneous Cards & Products | $59.93 | 33% | | |
| | Legendary Beasts Collector Pin 3 Pack Blister Entei | Miscellaneous Cards & Products | $62.99 | 34% | | |
| | Legendary Beasts Collector Pin 3 Pack Blister Suicune | Miscellaneous Cards & Products | | 0% | | |
| | 11th Movie Commemoration Set | Miscellaneous Cards & Products | $0.00 | 0% | | |
| | 10th Movie Commemoration Set | Miscellaneous Cards & Products | | 0% | | |
| | Legendary Birds Pin 3 Pack Blister Articuno Pin | Miscellaneous Cards & Products | $47.98 | 0% | | |
| | Legendary Birds Pin 3 Pack Blister Zapdos Pin | Miscellaneous Cards & Products | $46.64 | 0% | | |
| | Legendary Birds Pin 3 Pack Blister Moltres Pin | Miscellaneous Cards & Products | $47.47 | 0% | | |
| | Pokemon Center 2 Pack Blister Pack Tornadus Thundurus and Landorus | Miscellaneous Cards & Products | $7.79 | 95% | | |
| | Boltund V Showcase | Miscellaneous Cards & Products | $0.00 | -100% | | |
| | Professor Juniper Premium Tournament Collection Box | Miscellaneous Cards & Products | $28.01 | -44% | | |
| | V Heroes Tin Sylveon V International Version | Miscellaneous Cards & Products | | 0% | | |
| | V Heroes Tin Umbreon V International Version | Miscellaneous Cards & Products | | 0% | | |
| | V Heroes Tin Espeon V International Version | Miscellaneous Cards & Products | | 0% | | |
| | V Heroes Tin Set of 3 International Version | Miscellaneous Cards & Products | | 0% | | |
| | Kleavor VSTAR Premium Collection | Miscellaneous Cards & Products | $25.68 | -40% | | |
| | V Battle Deck Mewtwo V | Miscellaneous Cards & Products | $11.43 | 36% | | |
| | V Battle Deck Melmetal V | Miscellaneous Cards & Products | $8.96 | 64% | | |
| | Pokemon Poke Ball Tin Love Ball | Miscellaneous Cards & Products | $33.41 | 72% | | |
| | Divergent Powers Tin Hisuian Samurott V | Miscellaneous Cards & Products | $23.91 | 0% | | |
| | Divergent Powers Tin Hisuian Typhlosion V | Miscellaneous Cards & Products | $25.19 | 0% | | |
| | Divergent Powers Tin Hisuian Decidueye V | Miscellaneous Cards & Products | $25.06 | 0% | | |
| | Divergent Powers Tin Hisuian Decidueye V International Version | Miscellaneous Cards & Products | | 0% | | |
| | Divergent Powers Tin Hisuian Samurott V International Version | Miscellaneous Cards & Products | | 0% | | |
| | Divergent Powers Tin Hisuian Typhlosion V International Version | Miscellaneous Cards & Products | | 0% | | |
| | League Battle Deck Shadow Rider Calyrex VMAX | Miscellaneous Cards & Products | $15.06 | -34% | | |
| | League Battle Deck Ice Rider Calyrex VMAX | Miscellaneous Cards & Products | $13.07 | -56% | | |
| | League Battle Deck Shadow Rider Ice Rider Calyrex VMAX Set of 2 | Miscellaneous Cards & Products | $33.63 | -38% | | |
| | League Battle Deck Display Shadow Rider Ice Rider Calyrex VMAX | Miscellaneous Cards & Products | $0.00 | 0% | | |
| | Trainer Battle Deck Brock of Pewter City Gym JP Pokemon Center Exclusive | Miscellaneous Cards & Products | | 0% | | |
| | Trainer Battle Deck Misty of Cerulean City Gym JP Pokemon Center Exclusive | Miscellaneous Cards & Products | | 0% | | |
| | Divergent Powers Tin Set of 3 | Miscellaneous Cards & Products | $68.97 | 38% | | |
| | Divergent Powers Tin Set of 3 International Edition | Miscellaneous Cards & Products | | 0% | | |
| | Pokemon TCG Back to School Eraser Blister Pikachu | Miscellaneous Cards & Products | $12.48 | 56% | | |
| | Pokemon TCG Back to School Eraser Blister Eevee | Miscellaneous Cards & Products | $16.66 | 143% | | |
| | Pokemon TCG Back to School Eraser Blister Set of 2 | Miscellaneous Cards & Products | $0.00 | -100% | | |
| | Pokemon TCG Back to School Bundle | Miscellaneous Cards & Products | $27.10 | -5% | | |
| | Pokemon TCG Back to School Pencil Case | Miscellaneous Cards & Products | $9.49 | 16% | | |
| | Pokemon TCG Trainers Toolkit 2022 | Miscellaneous Cards & Products | $20.99 | 22% | | |
| | XY 3 Pack Blister Giratina | Miscellaneous Cards & Products | | 0% | | |
| | Pokemon TCG Trainers Toolkit 2021 Case | Miscellaneous Cards & Products | $0.00 | -100% | | |
| | Infernape V Box | Miscellaneous Cards & Products | $15.63 | 15% | | |
| | Professor Juniper Premium Tournament Collection Box Case | Miscellaneous Cards & Products | $119.90 | 21% | | |
| | Enhanced 2 Pack Blister Pack Galarian Articuno Galarian Zapdos and Galarian Moltres | Miscellaneous Cards & Products | $13.99 | -14% | | |
| | Virizion V Box | Miscellaneous Cards & Products | $15.29 | 9% | | |
| | V Battle Deck Deoxys V | Miscellaneous Cards & Products | $8.66 | -13% | | |
| | V Battle Deck Zeraora V | Miscellaneous Cards & Products | $13.91 | 39% | | |
| | Deoxys V Zeraora V Battle Decks Set of 2 | Miscellaneous Cards & Products | $15.86 | -12% | | |
| | V Battle Deck Bundle Deoxys V Zeraora V | Miscellaneous Cards & Products | $14.12 | -18% | | |
| | Hidden Potential Tin Rotom V | Miscellaneous Cards & Products | $18.25 | -3% | | |
| | Hidden Potential Tin Gallade V | Miscellaneous Cards & Products | $18.25 | 14% | | |
| | Hidden Potential Tin Giratina V | Miscellaneous Cards & Products | $23.73 | -1% | | |
| | Hidden Potential Tin Rotom V International Version | Miscellaneous Cards & Products | | 0% | | |
| | Hidden Potential Tin Gallade V International Version | Miscellaneous Cards & Products | | 0% | | |
| | Hidden Potential Tin Giratina V International Version | Miscellaneous Cards & Products | | 0% | | |
| | Hidden Potential Tin Set of 3 | Miscellaneous Cards & Products | $54.82 | -7% | | |
| | Hidden Potential Tin Set of 3 International Version | Miscellaneous Cards & Products | | 0% | | |
| | Deoxys VMAX and VSTAR Battle Box | Miscellaneous Cards & Products | $37.55 | 23% | | |
| | Zeraora VMAX and VSTAR Battle Box | Miscellaneous Cards & Products | $37.12 | 26% | | |
| | Deoxys Zeraora VMAX and VSTAR Battle Box Set of 2 | Miscellaneous Cards & Products | $59.33 | 4% | | |
| | Holiday Calendar | Miscellaneous Cards & Products | $64.78 | -34% | | |
| | Infernape V Showcase | Miscellaneous Cards & Products | $0.00 | 0% | | |
| | Enhanced 2 Pack Blister Pack Alolan Dugtrio Alolan Muk and Alolan Golem | Miscellaneous Cards & Products | | 0% | | |
| | Eevee Evolutions Premium Collection | Miscellaneous Cards & Products | $50.16 | -27% | | |
| | Mew V Box | Miscellaneous Cards & Products | $35.71 | 2% | | |
| | Kyurem V Box | Miscellaneous Cards & Products | $0.00 | -100% | | |
| | Darkrai VSTAR Premium Collection | Miscellaneous Cards & Products | $42.31 | 29% | | |
| | Shaymin VSTAR Premium Collection | Miscellaneous Cards & Products | $43.16 | -44% | | |
| | VMAX Dragons Premium Collection | Miscellaneous Cards & Products | $71.81 | 10% | | |
| | Galar Power Mini Tin Set of 5 | Miscellaneous Cards & Products | $47.76 | 0% | | |
| | Darkrai VSTAR Shaymin VSTAR Premium Collection Set of 2 | Miscellaneous Cards & Products | $0.00 | 0% | | |
| | Pokemon TCG Tempest Gift Box | Miscellaneous Cards & Products | | 0% | | |
| | Paldea Collection Sprigatito Miraidon ex | Miscellaneous Cards & Products | $25.23 | -2% | | |
| | Paldea Collection Fuecoco Koraidon ex | Miscellaneous Cards & Products | $23.58 | -2% | | |
| | Paldea Collection Quaxly Miraidon ex | Miscellaneous Cards & Products | $20.42 | -20% | | |
| | Paldea Collection Set of 3 Miraidon ex | Miscellaneous Cards & Products | $67.76 | 21% | | |
| | Checklane 2 Pack Pin Blister Latias | Miscellaneous Cards & Products | $19.18 | 0% | | |
| | Checklane 2 Pack Pin Blister Latios | Miscellaneous Cards & Products | $18.85 | 0% | | |
| | Mimikyu ex Box | Miscellaneous Cards & Products | $13.90 | -59% | | |
| | Paldea Collection Fuecoco Miraidon ex | Miscellaneous Cards & Products | $34.70 | 48% | | |
| | Paldea Collection Quaxly Koraidon ex | Miscellaneous Cards & Products | $19.89 | -17% | | |
| | Paldea Collection Sprigatito Koraidon ex | Miscellaneous Cards & Products | $24.15 | -1% | | |
| | Paldea Collection Set of 3 Koraidon ex | Miscellaneous Cards & Products | $59.66 | -25% | | |
| | Paldea Collection Set of 6 | Miscellaneous Cards & Products | $103.84 | -5% | | |
| | 2 Pack Blister Pack Raikou Entei and Suicune | Miscellaneous Cards & Products | $25.86 | 3% | | |
| | Trainers Legendary Box Lugia | Miscellaneous Cards & Products | | 0% | | |
| | Trainers Legendary Box Ho Oh | Miscellaneous Cards & Products | | 0% | | |
| | Klara Premium Tournament Collection Box | Miscellaneous Cards & Products | $32.25 | 0% | | |
| | Cyrus Premium Tournament Collection Box | Miscellaneous Cards & Products | $24.13 | 0% | | |
| | Cyrus Klara Premium Tournament Collection Box Set of 2 | Miscellaneous Cards & Products | $42.58 | 0% | | |
| | Cyrus Klara Premium Tournament Collection Display | Miscellaneous Cards & Products | $83.71 | 0% | | |