Pokemon TCG: Thunderstorm Gift Box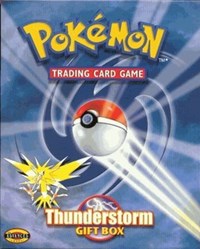 Set
Miscellaneous Cards & Products
The Thunderstorm was released in the time between Gym Heroes and Gym Challenge. It includes a unique Thunderstorm preconstructed Theme Deck featuring cards from Base Set, Jungle, Fossil, Team Rocket, and Gym Heroes expansions. It also includes three booster packs, one each from Fossil, Team Rocket, Gym Heroes, and the Pokémon Play It! Version 2 CD-ROM.
Also included were a play mat, deck building tip sheet, Pikachu coin, and a felt deck bag. The Zapdos included within the product is exclusive to the deck, as it utilizes the Cosmos Holofoil introduced for the Base Set 2, and not the Starlight Holofoil originally used for the Fossil release.
| | Name | Set | Price | Trend | | |
| --- | --- | --- | --- | --- | --- | --- |
| | Pikachu and Eevee Poke Ball Collection | Miscellaneous Cards & Products | $72.83 | 43% | | |
| | Pokemon Poke Ball Tin Poke Ball | Miscellaneous Cards & Products | $20.62 | 3% | | |
| | Pokemon Poke Ball Tin Quick Ball | Miscellaneous Cards & Products | $14.82 | -67% | | |
| | Pokemon TCG Basic Energy Box | Miscellaneous Cards & Products | $21.93 | 7% | | |
| | Lets Play Theme Deck Pikachu | Miscellaneous Cards & Products | $32.49 | 30% | | |
| | Lets Play Theme Deck Eevee | Miscellaneous Cards & Products | $0.00 | -100% | | |
| | Kanto Friends Mini Tin Bulbasaur | Miscellaneous Cards & Products | $18.67 | -53% | | |
| | Kanto Friends Mini Tin Pikachu | Miscellaneous Cards & Products | $15.98 | -45% | | |
| | Kanto Friends Mini Tin Eevee | Miscellaneous Cards & Products | $14.31 | -43% | | |
| | Kanto Friends Mini Tin Charmander | Miscellaneous Cards & Products | $21.40 | -38% | | |
| | Kanto Friends Mini Tin Squirtle | Miscellaneous Cards & Products | $15.97 | -36% | | |
| | Knock Out Collection Druddigon Noivern Hydreigon | Miscellaneous Cards & Products | | 0% | | |
| | Knock Out Collection Chesnaught Delphox Greninja | Miscellaneous Cards & Products | | 0% | | |
| | Knock Out Collection Tyranitar Shiftry and Vivillon | Miscellaneous Cards & Products | $19.82 | -11% | | |
| | Knock Out Collection Lucario Bisharp and Zoroark | Miscellaneous Cards & Products | $21.25 | 5% | | |
| | General Mills Promo Booster Pack Kanto | Miscellaneous Cards & Products | $7.48 | -54% | | |
| | General Mills Promo Booster Pack Sun and Moon | Miscellaneous Cards & Products | $12.32 | -65% | | |
| | Kanto Power Mini Tin Charizard | Miscellaneous Cards & Products | $30.47 | 40% | | |
| | Kanto Power Mini Tin Dragonite | Miscellaneous Cards & Products | $24.80 | 33% | | |
| | Kanto Power Mini Tin Mew | Miscellaneous Cards & Products | $24.64 | 8% | | |
| | Kanto Power Mini Tin Mewtwo | Miscellaneous Cards & Products | $25.20 | 27% | | |
| | Kanto Power Mini Tin Vulpix | Miscellaneous Cards & Products | $22.02 | 11% | | |
| | Pokemon Poke Ball Tin Great Ball | Miscellaneous Cards & Products | $23.91 | 18% | | |
| | Pokemon Poke Ball Tin Luxury Ball | Miscellaneous Cards & Products | $28.49 | -56% | | |
| | Pokemon Poke Ball Tin Premier Ball | Miscellaneous Cards & Products | $23.58 | 14% | | |
| | Battle Arena Deck Rayquaza GX | Miscellaneous Cards & Products | $100.00 | 100% | | |
| | Battle Arena Deck Ultra Necrozma GX | Miscellaneous Cards & Products | $89.99 | 70% | | |
| | Galar Collection Grookey with Zamazenta V | Miscellaneous Cards & Products | $0.00 | -100% | | |
| | Galar Collection Grookey with Zacian V | Miscellaneous Cards & Products | $150.00 | 0% | | |
| | Galar Collection Scorbunny with Zacian V | Miscellaneous Cards & Products | $94.00 | 71% | | |
| | Galar Collection Scorbunny with Zamazenta V | Miscellaneous Cards & Products | $0.00 | 0% | | |
| | Galar Collection Sobble with Zamazenta V | Miscellaneous Cards & Products | $0.00 | 0% | | |
| | Galar Collection Sobble with Zacian V | Miscellaneous Cards & Products | $93.75 | 76% | | |
| | Elemental Power Tin Flareon GX | Miscellaneous Cards & Products | $47.75 | 18% | | |
| | Elemental Power Tin Vaporeon GX | Miscellaneous Cards & Products | $52.22 | 58% | | |
| | Elemental Power Tin Jolteon GX | Miscellaneous Cards & Products | $51.66 | 65% | | |
| | Fall 2019 Collectors Chest Tin | Miscellaneous Cards & Products | $185.00 | -10% | | |
| | TAG TEAM Generations Premium Collection | Miscellaneous Cards & Products | $238.99 | 48% | | |
| | Battle Arena Deck Ultra Necrozma GX and Rayquaza GX | Miscellaneous Cards & Products | $55.00 | -28% | | |
| | Premium Checklane Blister Gardevoir | Miscellaneous Cards & Products | | 0% | | |
| | Premium Checklane Blister Gallade | Miscellaneous Cards & Products | | 0% | | |
| | Lets Play Pokemon TCG Box | Miscellaneous Cards & Products | $36.24 | 84% | | |
| | Alolan Sandslash GX Box | Miscellaneous Cards & Products | $0.00 | -100% | | |
| | Meowth VMAX Special Collection | Miscellaneous Cards & Products | $79.80 | 54% | | |
| | Black Kyurem Box | Miscellaneous Cards & Products | $0.00 | 0% | | |
| | White Kyurem Box | Miscellaneous Cards & Products | | 0% | | |
| | Keldeo Box | Miscellaneous Cards & Products | $0.00 | 0% | | |
| | Clash of Legends Box Darkrai and Cresselia Legend | Miscellaneous Cards & Products | | 0% | | |
| | Clash of Legends Box Dialga and Palkia Legend | Miscellaneous Cards & Products | | 0% | | |
| | World of Illusions Box | Miscellaneous Cards & Products | | 0% | | |
| | Legendary Dragons of Unova Collection | Miscellaneous Cards & Products | | 0% | | |
| | Double Album Box | Miscellaneous Cards & Products | | 0% | | |
| | EX Series Collectors Tin | Miscellaneous Cards & Products | $0.00 | -100% | | |
| | BW Sneak Peek Tin Tepig | Miscellaneous Cards & Products | | 0% | | |
| | BW Sneak Peek Tin Snivy | Miscellaneous Cards & Products | | 0% | | |
| | BW Sneak Peek Tin Oshawott | Miscellaneous Cards & Products | | 0% | | |
| | Galar Pal Mini Tin Galarian Ponyta | Miscellaneous Cards & Products | $18.93 | -3% | | |
| | Galar Pal Mini Tin Grookey and Wooloo | Miscellaneous Cards & Products | $17.71 | -16% | | |
| | Galar Pal Mini Tin Scorbunny and Pikachu | Miscellaneous Cards & Products | $17.33 | -1% | | |
| | Galar Pal Mini Tin Sobble and Rookidee | Miscellaneous Cards & Products | $16.04 | -9% | | |
| | Galar Pal Mini Tin Yamper and Morpeko | Miscellaneous Cards & Products | $16.25 | -14% | | |
| | Galar Pal Mini Tin Display | Miscellaneous Cards & Products | $0.00 | 0% | | |
| | Galar Pal Mini Tin Set of 5 | Miscellaneous Cards & Products | $96.15 | 39% | | |
| | Pokemon TCG SWSH Basic Energy Box | Miscellaneous Cards & Products | $14.51 | -19% | | |
| | TAG TEAM Powers Collection Espeon and Deoxys GX | Miscellaneous Cards & Products | $290.45 | 109% | | |
| | TAG TEAM Powers Collection Umbreon and Darkrai GX | Miscellaneous Cards & Products | $264.95 | 47% | | |
| | Pokemon Poke Ball Tin Ultra Ball | Miscellaneous Cards & Products | $21.12 | -2% | | |
| | Pokemon Poke Ball Tin Dive Ball | Miscellaneous Cards & Products | $110.65 | 239% | | |
| | Pokemon TCG Starter Gift Set | Miscellaneous Cards & Products | $0.00 | 0% | | |
| | Pokemon TCG EX Collectors Box Deoxys | Miscellaneous Cards & Products | | 0% | | |
| | Pokemon TCG EX Collectors Box Rayquaza | Miscellaneous Cards & Products | | 0% | | |
| | Pokemon TCG Thunderstorm Gift Box | Miscellaneous Cards & Products | | 0% | | |
| | Pokemon Poke Ball Tin Dusk Ball | Miscellaneous Cards & Products | $58.45 | 152% | | |
| | League Battle Decks Pikachu and Zekrom GX | Miscellaneous Cards & Products | $46.24 | 14% | | |
| | League Battle Decks Reshiram and Charizard GX | Miscellaneous Cards & Products | $48.63 | -8% | | |
| | League Battle Decks Set of 2 | Miscellaneous Cards & Products | $95.01 | 27% | | |
| | Pokemon TCG Trainers Toolkit 2020 | Miscellaneous Cards & Products | $35.03 | -17% | | |
| | Dragonite Dragons Tin | Miscellaneous Cards & Products | $47.70 | 64% | | |
| | Salamence Dragons Tin | Miscellaneous Cards & Products | $49.95 | 96% | | |
| | Galar Power Mini Tin Display | Miscellaneous Cards & Products | $146.95 | 7% | | |
| | Galar Power Mini Tin Dragapult | Miscellaneous Cards & Products | $11.37 | -27% | | |
| | Galar Power Mini Tin Galarian Sirfetchd | Miscellaneous Cards & Products | $10.38 | -28% | | |
| | Galar Power Mini Tin Galarian Rapidash | Miscellaneous Cards & Products | $11.96 | -23% | | |
| | Galar Power Mini Tin Galarian Obstagoon | Miscellaneous Cards & Products | $10.43 | -28% | | |
| | Galar Power Mini Tin Toxtricity | Miscellaneous Cards & Products | $10.42 | -36% | | |
| | Galar Challengers Tin Polteageist V | Miscellaneous Cards & Products | $0.00 | -100% | | |
| | Galar Challengers Tin Copperajah V | Miscellaneous Cards & Products | $0.00 | -100% | | |
| | Galar Challengers Tin Toxtricity V | Miscellaneous Cards & Products | $39.94 | 0% | | |
| | Galar Challengers Tin Set of 3 | Miscellaneous Cards & Products | $100.00 | 0% | | |
| | V Powers Tin Pikachu V | Miscellaneous Cards & Products | $22.32 | -35% | | |
| | V Powers Tin Eevee V | Miscellaneous Cards & Products | $36.00 | 19% | | |
| | V Powers Tin Eternatus V | Miscellaneous Cards & Products | $25.21 | -27% | | |
| | V Powers Tin Set of 3 | Miscellaneous Cards & Products | $114.99 | -0% | | |
| | Kanto Power Mini Tin Display | Miscellaneous Cards & Products | $255.00 | 63% | | |
| | Kanto Friends Mini Tin Display | Miscellaneous Cards & Products | $149.99 | 0% | | |
| | Small But Mighty Premium Collection | Miscellaneous Cards & Products | $174.73 | 25% | | |
| | Jirachi GX Collection | Miscellaneous Cards & Products | $97.71 | -2% | | |
| | Sword and Shield Ultra Premium Collection Zacian and Zamazenta | Miscellaneous Cards & Products | $150.96 | -16% | | |
| | League Battle Deck Zacian V | Miscellaneous Cards & Products | $28.84 | -29% | | |
| | Legends of Johto Pin Collection | Miscellaneous Cards & Products | $91.78 | 22% | | |
| | Strong Bonds Tin Gardevoir | Miscellaneous Cards & Products | $28.89 | 34% | | |
| | Strong Bonds Tin Blissey | Miscellaneous Cards & Products | $41.88 | 114% | | |
| | Collectors Pin Two Pack Blisters Espeon | Miscellaneous Cards & Products | | 0% | | |
| | Collectors Pin Two Pack Blisters Umbreon | Miscellaneous Cards & Products | | 0% | | |
| | V Battle Deck Display Venusaur V Blastoise V | Miscellaneous Cards & Products | $89.99 | 46% | | |
| | V Battle Deck Bundle Venusaur V Blastoise V | Miscellaneous Cards & Products | $43.08 | 51% | | |
| | V Battle Deck Blastoise V | Miscellaneous Cards & Products | $17.68 | 53% | | |
| | V Battle Deck Venusaur V | Miscellaneous Cards & Products | $15.84 | 42% | | |
| | V Forces Tin Display | Miscellaneous Cards & Products | $0.00 | 0% | | |
| | V Forces Tin Galarian Slowbro V | Miscellaneous Cards & Products | $16.23 | -41% | | |
| | V Forces Tin Lucario V | Miscellaneous Cards & Products | $20.99 | -40% | | |
| | V Forces Tin Mew V | Miscellaneous Cards & Products | $22.31 | -33% | | |
| | V Forces Tin Set of 3 | Miscellaneous Cards & Products | $55.00 | 0% | | |
| | Tapu Koko Box International Version | Miscellaneous Cards & Products | $36.80 | 107% | | |
| | Meowth VMAX Box International Version | Miscellaneous Cards & Products | $0.00 | -100% | | |
| | Pokemon Poke Ball Tin Level Ball | Miscellaneous Cards & Products | $15.03 | -37% | | |
| | Venusaur VMAX Battle Box | Miscellaneous Cards & Products | $43.99 | 68% | | |
| | Blastoise VMAX Battle Box | Miscellaneous Cards & Products | $60.69 | 67% | | |
| | Pokemon Poke Ball Tin Display | Miscellaneous Cards & Products | $112.87 | 3% | | |
| | General Mills 25th Anniversary Booster Pack | Miscellaneous Cards & Products | $4.65 | -24% | | |
| | V Battle Deck Bundle Victini V Gardevoir V | Miscellaneous Cards & Products | $27.74 | 51% | | |
| | V Battle Deck Display Victini V Gardevoir V | Miscellaneous Cards & Products | $86.64 | 56% | | |
| | V Battle Deck Victini V | Miscellaneous Cards & Products | $11.03 | 9% | | |
| | V Battle Deck Gardevoir V | Miscellaneous Cards & Products | $11.92 | 18% | | |
| | Collectors Pin Two Pack Blisters Charizard | Miscellaneous Cards & Products | $20.00 | 0% | | |
| | Collectors Pin Two Pack Blisters Mimikyu | Miscellaneous Cards & Products | | 0% | | |
| | Collectors Pin Two Pack Blisters Dusk Mane Necrozma | Miscellaneous Cards & Products | $0.00 | 0% | | |
| | Collectors Pin Two Pack Blisters Dawn Wings Necrozma | Miscellaneous Cards & Products | $0.00 | 0% | | |
| | League Battle Deck Inteleon VMAX | Miscellaneous Cards & Products | $18.96 | -8% | | |
| | Marshadow Box International Version | Miscellaneous Cards & Products | $0.00 | 0% | | |
| | Checklane 2 Mini Pack Blister Dragonite | Miscellaneous Cards & Products | $8.00 | -7% | | |
| | Checklane 2 Mini Pack Blister Machamp | Miscellaneous Cards & Products | $9.56 | 6% | | |
| | Gardevoir V Victini V Battle Decks Set of 2 | Miscellaneous Cards & Products | $17.44 | 3% | | |
| | Blastoise V Venusaur V Battle Decks Set of 2 | Miscellaneous Cards & Products | $34.89 | 69% | | |
| | Marnie Premium Tournament Collection Box | Miscellaneous Cards & Products | $69.98 | -15% | | |
| | Pokemon TCG Trainers Toolkit 2021 | Miscellaneous Cards & Products | $18.84 | -13% | | |
| | Pokemon Poke Ball Tin plus 2 Kanto Power Mini Tins Poke Ball | Miscellaneous Cards & Products | $149.99 | 275% | | |
| | Pokemon Poke Ball Tin plus 2 Kanto Power Mini Tins Great Ball | Miscellaneous Cards & Products | $0.00 | 0% | | |
| | Pokemon Poke Ball Tin plus 2 Kanto Power Mini Tins Dusk Ball | Miscellaneous Cards & Products | $49.98 | 0% | | |
| | Pokemon Poke Ball Tin plus 2 Kanto Power Mini Tins Premier Ball | Miscellaneous Cards & Products | $49.98 | 0% | | |
| | Pokemon Poke Ball Tin plus 2 Kanto Power Mini Tins Ultra Ball | Miscellaneous Cards & Products | $49.98 | 0% | | |
| | Kanto Power Mini Tins 5 Pack | Miscellaneous Cards & Products | $129.39 | 31% | | |
| | V Battle Deck Bundle Rayquaza V Noivern V | Miscellaneous Cards & Products | $24.50 | -2% | | |
| | Rayquaza V Noivern V Battle Decks Set of 2 | Miscellaneous Cards & Products | $17.66 | -38% | | |
| | V Battle Deck Rayquaza V | Miscellaneous Cards & Products | $16.05 | -18% | | |
| | V Battle Deck Noivern V | Miscellaneous Cards & Products | $11.82 | -40% | | |
| | Mighty Mysterious Tin Mimikyu | Miscellaneous Cards & Products | $17.91 | 2% | | |
| | Mighty Mysterious Tin Darkrai | Miscellaneous Cards & Products | $16.63 | 0% | | |
| | Mighty Mysterious Tin Snorlax | Miscellaneous Cards & Products | $16.93 | 0% | | |
| | League Battle Deck Single Strike Urshifu VMAX | Miscellaneous Cards & Products | $18.81 | -68% | | |
| | League Battle Deck Rapid Strike Urshifu VMAX | Miscellaneous Cards & Products | $24.37 | -59% | | |
| | League Battle Deck Rapid Single Strike Urshifu VMAX Set of 2 | Miscellaneous Cards & Products | $43.83 | -66% | | |
| | Mythical Squishy Premium Collection | Miscellaneous Cards & Products | $82.88 | 2% | | |
| | Reshiram and Charizard GX Premium Collection | Miscellaneous Cards & Products | $69.98 | -34% | | |
| | 2 Pack Blister Snorlax Morpeko and Applin Cards | Miscellaneous Cards & Products | $12.14 | 0% | | |
| | Vaporeon VMAX Premium Collection | Miscellaneous Cards & Products | $63.92 | -6% | | |
| | Jolteon VMAX Premium Collection | Miscellaneous Cards & Products | $64.46 | -12% | | |
| | Flareon VMAX Premium Collection | Miscellaneous Cards & Products | $62.13 | -13% | | |
| | Eevee Evolution VMAX Premium Collection Set of 3 | Miscellaneous Cards & Products | $189.22 | -30% | | |
| | Eevee Pokemon Treasure Chest Tin | Miscellaneous Cards & Products | $40.05 | 0% | | |
| | Pikachu and Zekrom GX Premium Collection | Miscellaneous Cards & Products | $46.79 | -23% | | |
| | Kanto Friends Mini Tins 5 Pack | Miscellaneous Cards & Products | $86.38 | 25% | | |
| | Costco Pokemon Collector 3 Pack Eevee Treasure Chest plus 2 Poke Ball Tins | Miscellaneous Cards & Products | $57.88 | -23% | | |
| | V Powers Tin Pikachu V International Version | Miscellaneous Cards & Products | $16.42 | 0% | | |
| | V Powers Tin Eevee V International Version | Miscellaneous Cards & Products | $25.35 | 0% | | |
| | V Powers Tin Eternatus V International Version | Miscellaneous Cards & Products | $19.42 | 0% | | |
| | V Powers Tin Set of 3 International Version | Miscellaneous Cards & Products | $57.49 | 0% | | |
| | Poke Ball Tin Display Q4 2018 | Miscellaneous Cards & Products | | 0% | | |
| | Poke Ball Tin Display Q1 2019 | Miscellaneous Cards & Products | $199.99 | 0% | | |
| | Poke Ball Tin Display Q3 2019 | Miscellaneous Cards & Products | | 0% | | |
| | Poke Ball Tin Display Q1 2020 | Miscellaneous Cards & Products | | 0% | | |
| | Poke Ball Tin Display Q2 2020 | Miscellaneous Cards & Products | | 0% | | |
| | Poke Ball Tin Display Q1 2021 | Miscellaneous Cards & Products | $0.00 | 0% | | |
| | Poke Ball Tin Display Q4 2021 | Miscellaneous Cards & Products | $99.19 | 10% | | |
| | Pikachu V Box | Miscellaneous Cards & Products | $15.39 | 0% | | |
| | Pokemon Stacking Tin Water | Miscellaneous Cards & Products | $13.58 | 0% | | |
| | Pokemon Stacking Tin Grass | Miscellaneous Cards & Products | $12.40 | 0% | | |
| | Pokemon Stacking Tin Electric | Miscellaneous Cards & Products | $13.23 | 0% | | |
| | Pokemon Stacking Tins Set of 6 | Miscellaneous Cards & Products | $63.01 | 0% | | |
| | Pokemon Stacking Tins Set of 3 | Miscellaneous Cards & Products | $37.38 | 0% | | |
| | Spring 2022 Collector Bundle | Miscellaneous Cards & Products | $22.50 | 0% | | |
| | Lucario VSTAR Premium Collection | Miscellaneous Cards & Products | $28.49 | -23% | | |
| | Sinnoh Star Mini Tin Piplup | Miscellaneous Cards & Products | $9.94 | -28% | | |
| | Sinnoh Star Mini Tin Riolu | Miscellaneous Cards & Products | $9.94 | -28% | | |
| | Sinnoh Star Mini Tin Turtwig | Miscellaneous Cards & Products | $9.93 | 0% | | |
| | Sinnoh Star Mini Tin Chimchar | Miscellaneous Cards & Products | $9.95 | -28% | | |
| | Sinnoh Star Mini Tin Munchlax | Miscellaneous Cards & Products | $9.94 | -29% | | |
| | Morpeko V UNION Special Collection | Miscellaneous Cards & Products | $13.78 | -61% | | |
| | Boltund V Box | Miscellaneous Cards & Products | $14.87 | -44% | | |
| | V Heroes Tin Espeon V | Miscellaneous Cards & Products | $18.47 | -47% | | |
| | V Heroes Tin Sylveon V | Miscellaneous Cards & Products | $19.01 | -45% | | |
| | V Heroes Tin Umbreon V | Miscellaneous Cards & Products | $20.99 | -40% | | |
| | V Heroes Tin Set of 3 | Miscellaneous Cards & Products | $53.20 | -39% | | |
| | Fall 2020 Collectors Chest Tin plus Premier Ball 2 Pack Retail Exclusive | Miscellaneous Cards & Products | $42.43 | -6% | | |
| | Fall 2020 Collectors Chest Tin plus Poke Ball 2 Pack Retail Exclusive | Miscellaneous Cards & Products | $40.99 | -32% | | |
| | Fall 2020 Collectors Chest Tin plus Great Ball 2 Pack Retail Exclusive | Miscellaneous Cards & Products | $49.50 | 0% | | |
| | Fall 2020 Collectors Chest Tin plus Level Ball 2 Pack Retail Exclusive | Miscellaneous Cards & Products | $44.14 | 0% | | |
| | Fall 2020 Collectors Chest Tin plus Ultra Ball 2 Pack Retail Exclusive | Miscellaneous Cards & Products | $0.00 | 0% | | |
| | Sinnoh Star Mini Tin Set of 5 | Miscellaneous Cards & Products | $36.81 | -43% | | |
| | Sinnoh Star Mini Tin Display | Miscellaneous Cards & Products | $61.79 | -48% | | |
| | V Battle Deck Bundle Lycanroc V Corviknight V | Miscellaneous Cards & Products | $13.29 | -13% | | |
| | Alolan Raichu Box | Miscellaneous Cards & Products | $32.76 | -12% | | |
| | Knock Out Collection Toxtricity Duraladon Sandaconda | Miscellaneous Cards & Products | $10.75 | -56% | | |
| | Knock Out Collection Boltund Eiscue Galarian Sirfetchd | Miscellaneous Cards & Products | $18.96 | 0% | | |
| | V Battle Deck Lycanroc V | Miscellaneous Cards & Products | $7.32 | -15% | | |
| | V Battle Deck Corviknight V | Miscellaneous Cards & Products | $6.95 | -34% | | |
| | Lycanroc V Corviknight V Battle Decks Set of 2 | Miscellaneous Cards & Products | $13.97 | 1% | | |
| | Start Deck 100 JP Exclusive 2021 | Miscellaneous Cards & Products | $18.66 | 0% | | |
| | Start Deck 100 Display JP Exclusive 2021 | Miscellaneous Cards & Products | | 0% | | |
| | Poke Ball Tin Display Q2 2022 | Miscellaneous Cards & Products | $52.73 | -47% | | |
| | Spring 2022 Collector Chest | Miscellaneous Cards & Products | $17.71 | -34% | | |
| | Pikachu V Showcase | Miscellaneous Cards & Products | $0.00 | 0% | | |
| | Legendary Beasts Collector Pin 3 Pack Blister Raikou | Miscellaneous Cards & Products | $51.97 | 16% | | |
| | Legendary Beasts Collector Pin 3 Pack Blister Entei | Miscellaneous Cards & Products | $42.83 | -9% | | |
| | Legendary Beasts Collector Pin 3 Pack Blister Suicune | Miscellaneous Cards & Products | | 0% | | |
| | 11th Movie Commemoration Set | Miscellaneous Cards & Products | $0.00 | 0% | | |
| | 10th Movie Commemoration Set | Miscellaneous Cards & Products | | 0% | | |
| | Legendary Birds Pin 3 Pack Blister Articuno Pin | Miscellaneous Cards & Products | $60.00 | 0% | | |
| | Legendary Birds Pin 3 Pack Blister Zapdos Pin | Miscellaneous Cards & Products | $60.00 | 0% | | |
| | Legendary Birds Pin 3 Pack Blister Moltres Pin | Miscellaneous Cards & Products | $60.00 | 0% | | |
| | Pokemon Center 2 Pack Blister Pack Tornadus Thundurus and Landorus | Miscellaneous Cards & Products | $7.79 | 95% | | |
| | Boltund V Showcase | Miscellaneous Cards & Products | $0.00 | -100% | | |
| | Professor Juniper Premium Tournament Collection Box | Miscellaneous Cards & Products | $26.03 | -48% | | |
| | V Heroes Tin Sylveon V International Version | Miscellaneous Cards & Products | | 0% | | |
| | V Heroes Tin Umbreon V International Version | Miscellaneous Cards & Products | | 0% | | |
| | V Heroes Tin Espeon V International Version | Miscellaneous Cards & Products | | 0% | | |
| | V Heroes Tin Set of 3 International Version | Miscellaneous Cards & Products | | 0% | | |
| | Kleavor VSTAR Premium Collection | Miscellaneous Cards & Products | $23.05 | -46% | | |
| | V Battle Deck Mewtwo V | Miscellaneous Cards & Products | $10.86 | 29% | | |
| | V Battle Deck Melmetal V | Miscellaneous Cards & Products | $7.86 | 44% | | |
| | Pokemon Poke Ball Tin Love Ball | Miscellaneous Cards & Products | $16.79 | -14% | | |
| | Divergent Powers Tin Hisuian Samurott V | Miscellaneous Cards & Products | $21.37 | 0% | | |
| | Divergent Powers Tin Hisuian Typhlosion V | Miscellaneous Cards & Products | $22.81 | 0% | | |
| | Divergent Powers Tin Hisuian Decidueye V | Miscellaneous Cards & Products | $18.94 | 0% | | |
| | Divergent Powers Tin Hisuian Decidueye V International Version | Miscellaneous Cards & Products | | 0% | | |
| | Divergent Powers Tin Hisuian Samurott V International Version | Miscellaneous Cards & Products | | 0% | | |
| | Divergent Powers Tin Hisuian Typhlosion V International Version | Miscellaneous Cards & Products | | 0% | | |
| | League Battle Deck Shadow Rider Calyrex VMAX | Miscellaneous Cards & Products | $20.85 | -9% | | |
| | League Battle Deck Ice Rider Calyrex VMAX | Miscellaneous Cards & Products | $20.17 | -33% | | |
| | League Battle Deck Shadow Rider Ice Rider Calyrex VMAX Set of 2 | Miscellaneous Cards & Products | $39.44 | -27% | | |
| | League Battle Deck Display Shadow Rider Ice Rider Calyrex VMAX | Miscellaneous Cards & Products | $109.75 | 0% | | |
| | Trainer Battle Deck Brock of Pewter City Gym JP Pokemon Center Exclusive | Miscellaneous Cards & Products | | 0% | | |
| | Trainer Battle Deck Misty of Cerulean City Gym JP Pokemon Center Exclusive | Miscellaneous Cards & Products | | 0% | | |
| | Divergent Powers Tin Set of 3 | Miscellaneous Cards & Products | $55.76 | 12% | | |
| | Divergent Powers Tin Set of 3 International Edition | Miscellaneous Cards & Products | | 0% | | |
| | Pokemon TCG Back to School Eraser Blister Pikachu | Miscellaneous Cards & Products | $7.45 | -7% | | |
| | Pokemon TCG Back to School Eraser Blister Eevee | Miscellaneous Cards & Products | $6.92 | 1% | | |
| | Pokemon TCG Back to School Eraser Blister Set of 2 | Miscellaneous Cards & Products | $19.32 | -1% | | |
| | Pokemon TCG Back to School Bundle | Miscellaneous Cards & Products | $27.73 | -2% | | |
| | Pokemon TCG Back to School Pencil Case | Miscellaneous Cards & Products | $8.15 | 0% | | |
| | Pokemon TCG Trainers Toolkit 2022 | Miscellaneous Cards & Products | $18.77 | 9% | | |
| | XY 3 Pack Blister Giratina | Miscellaneous Cards & Products | | 0% | | |
| | Pokemon TCG Trainers Toolkit 2021 Case | Miscellaneous Cards & Products | $102.46 | 0% | | |
| | Infernape V Box | Miscellaneous Cards & Products | $14.07 | 3% | | |
| | Professor Juniper Premium Tournament Collection Box Case | Miscellaneous Cards & Products | $92.46 | -7% | | |
| | Enhanced 2 Pack Blister Pack Galarian Articuno Galarian Zapdos and Galarian Moltres | Miscellaneous Cards & Products | $14.74 | -10% | | |
| | Virizion V Box | Miscellaneous Cards & Products | $14.29 | 2% | | |
| | V Battle Deck Deoxys V | Miscellaneous Cards & Products | $9.63 | -4% | | |
| | V Battle Deck Zeraora V | Miscellaneous Cards & Products | $9.43 | -6% | | |
| | Deoxys V Zeraora V Battle Decks Set of 2 | Miscellaneous Cards & Products | $17.78 | -1% | | |
| | V Battle Deck Bundle Deoxys V Zeraora V | Miscellaneous Cards & Products | $16.47 | -4% | | |
| | Hidden Potential Tin Rotom V | Miscellaneous Cards & Products | $19.69 | 5% | | |
| | Hidden Potential Tin Gallade V | Miscellaneous Cards & Products | $16.77 | 5% | | |
| | Hidden Potential Tin Giratina V | Miscellaneous Cards & Products | $23.48 | -2% | | |
| | Hidden Potential Tin Rotom V International Version | Miscellaneous Cards & Products | | 0% | | |
| | Hidden Potential Tin Gallade V International Version | Miscellaneous Cards & Products | | 0% | | |
| | Hidden Potential Tin Giratina V International Version | Miscellaneous Cards & Products | | 0% | | |
| | Hidden Potential Tin Set of 3 | Miscellaneous Cards & Products | $57.40 | -3% | | |
| | Hidden Potential Tin Set of 3 International Version | Miscellaneous Cards & Products | | 0% | | |
| | Deoxys VMAX and VSTAR Battle Box | Miscellaneous Cards & Products | $29.97 | -2% | | |
| | Zeraora VMAX and VSTAR Battle Box | Miscellaneous Cards & Products | $30.43 | 3% | | |
| | Deoxys Zeraora VMAX and VSTAR Battle Box Set of 2 | Miscellaneous Cards & Products | $56.98 | -0% | | |
| | Holiday Calendar | Miscellaneous Cards & Products | $97.57 | 0% | | |
| | Infernape V Showcase | Miscellaneous Cards & Products | $0.00 | 0% | | |
| | Enhanced 2 Pack Blister Pack Alolan Dugtrio Alolan Muk and Alolan Golem | Miscellaneous Cards & Products | | 0% | | |
| | Eevee Evolutions Premium Collection | Miscellaneous Cards & Products | $67.51 | -1% | | |
| | Mew V Box | Miscellaneous Cards & Products | $34.99 | 0% | | |
| | Kyurem V Box | Miscellaneous Cards & Products | $34.99 | 0% | | |
| | Darkrai VSTAR Premium Collection | Miscellaneous Cards & Products | $32.63 | -0% | | |
| | Shaymin VSTAR Premium Collection | Miscellaneous Cards & Products | $76.49 | 0% | | |
| | VMAX Dragons Premium Collection | Miscellaneous Cards & Products | $65.40 | -0% | | |
| | Galar Power Mini Tin Set of 5 | Miscellaneous Cards & Products | $0.00 | 0% | | |
| | Darkrai VSTAR Shaymin VSTAR Premium Collection Set of 2 | Miscellaneous Cards & Products | $0.00 | 0% | | |
| | Pokemon TCG Tempest Gift Box | Miscellaneous Cards & Products | | 0% | | |
| | Paldea Collection Sprigatito Miraidon ex | Miscellaneous Cards & Products | $21.81 | -15% | | |
| | Paldea Collection Fuecoco Koraidon ex | Miscellaneous Cards & Products | $22.53 | -6% | | |
| | Paldea Collection Quaxly Miraidon ex | Miscellaneous Cards & Products | $22.55 | -12% | | |
| | Paldea Collection Set of 3 Miraidon ex | Miscellaneous Cards & Products | $56.15 | -0% | | |
| | Checklane 2 Pack Pin Blister Latias | Miscellaneous Cards & Products | $0.00 | 0% | | |
| | Checklane 2 Pack Pin Blister Latios | Miscellaneous Cards & Products | $0.00 | 0% | | |
| | Mimikyu ex Box | Miscellaneous Cards & Products | $33.75 | 0% | | |
| | Paldea Collection Fuecoco Miraidon ex | Miscellaneous Cards & Products | $21.71 | -7% | | |
| | Paldea Collection Quaxly Koraidon ex | Miscellaneous Cards & Products | $23.71 | -1% | | |
| | Paldea Collection Sprigatito Koraidon ex | Miscellaneous Cards & Products | $23.56 | -3% | | |
| | Paldea Collection Set of 3 Koraidon ex | Miscellaneous Cards & Products | $77.06 | -3% | | |
| | Paldea Collection Set of 6 | Miscellaneous Cards & Products | $107.67 | -1% | | |
| | 2 Pack Blister Pack Raikou Entei and Suicune | Miscellaneous Cards & Products | $22.81 | -9% | | |
| | Trainers Legendary Box Lugia | Miscellaneous Cards & Products | | 0% | | |
| | Trainers Legendary Box Ho Oh | Miscellaneous Cards & Products | | 0% | | |
| | Klara Premium Tournament Collection Box | Miscellaneous Cards & Products | $49.96 | 0% | | |
| | Cyrus Premium Tournament Collection Box | Miscellaneous Cards & Products | $0.00 | 0% | | |
| | Cyrus Klara Premium Tournament Collection Box Set of 2 | Miscellaneous Cards & Products | $0.00 | 0% | | |
| | Cyrus Klara Premium Tournament Collection Display | Miscellaneous Cards & Products | $159.93 | 0% | | |